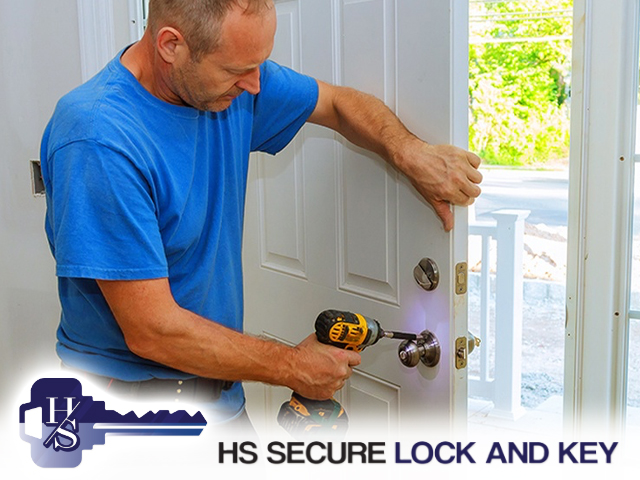 Residential | HS Secure Lock and Keys, a local company, provides expert emergency, automotive, commercial and residential locksmith services and more. Contact us today for a free estimate.
Residential Locksmith | Expert Locksmith Service
There are many reasons why people need a residential locksmith. One of the most common reasons is that they have lost their keys or accidentally locked themselves out of their homes. It is possible for a locksmith to gain entry to a home in these situations without causing damage to the door or locks.
Increasing the security of a home is another reason why people may need a residential locksmith. The locksmith can install deadbolts, high-security locks, and other hard-to-pick locks. Besides providing security advice, they can also recommend security cameras and motion sensors.
Repairing or replacing damaged locks may also require the services of a residential locksmith. As locks wear down or become damaged, they become less effective at keeping homes secure. The locksmith can assess the condition of the locks and recommend repairs or replacements as necessary.
When moving into a new home, it's a good idea to have the locks changed by a locksmith. The new homeowners are provided with peace of mind when previous owners and tenants can't access the property.
Additionally, residential locksmiths can provide emergency services. During an emergency situation or break-in, a locksmith can quickly repair or replace a damaged lock and ensure the home is secure.
For those who want to secure their homes or need assistance gaining entry in a lockout situation, residential locksmiths are a necessity. The expertise and knowledge of locksmiths can provide homeowners with peace of mind and security.
Review our website and contact us today for quality work.
Residential Locksmith | Precision Work
Services:
Residential Locksmith Services
Commercial Locksmith Services
Automotive Locksmith Services
Emergency Locksmith Services
Experienced Quality Locksmith
Emergency Services
24/7 Services
Years of Experience
Highest Quality Tools and Technology
Precision Work Done Quickly and Correctly