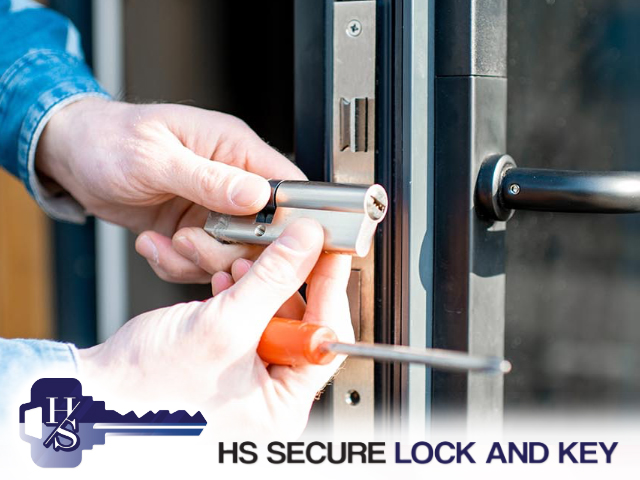 Commercial Locksmith Services | HS Secure Lock and Keys, a local company, specializes in residential, automotive and commercial locksmith services and more. Contact us today for a free estimate.
Commercial Locksmith Services | Professional Locksmith Services
The Role of Commercial Locksmith Services in Safeguarding Business Assets
In order to safeguard business assets and ensure their premises' security, commercial locksmith services are indispensable. With their expertise in security assessments, installation of high-security locks, access control systems, emergency lockout services, lock repairs, and security consultation, locksmiths play a vital role in protecting business assets. By engaging the services of commercial locksmiths, businesses can enhance their security posture, mitigate risks, and gain peace of mind knowing that their valuable assets are well-protected.
Comprehensive Security Assessments
In order to identify vulnerabilities in business premises, locksmiths perform comprehensive security assessments. They assess the effectiveness of existing locks, access control systems, and surveillance measures. By conducting thorough evaluations, locksmiths can recommend appropriate security solutions tailored to the specific needs of the business. These assessments play a big part in our commercial locksmith services.
Installation and Maintenance of High-Security Locks
Commercial locksmiths specialize in the installation and maintenance of high-security locks that offer advanced protection against unauthorized access. These locks are designed with advanced technologies such as keyless entry systems, biometric authentication, and restricted keyways. By installing and maintaining high-security locks, locksmiths enhance the physical security of business premises and deter potential intruders.
Access Control Systems
Access control systems are designed and implemented by commercial locksmiths to regulate access into business facilities. These systems may include key card readers, keypad entry systems, and electronic locks. By integrating access control systems, locksmiths provide businesses with efficient and secure means of managing employee access, visitor permissions, and monitoring entry and exit activities.
Emergency Lockout Services
Whether it's due to misplaced or lost keys, malfunctioning locks, or other unforeseen circumstances, commercial locksmiths offer emergency lockout services. Locksmiths provide prompt response and professional assistance to ensure quick access to the premises, minimizing disruption to business operations.
Lock Repairs and Rekeying
In the event of damaged locks, commercial locksmiths are skilled in lock repairs and rekeying services. They can address issues such as jammed locks, broken keys, or compromised lock mechanisms. Additionally, locksmiths can rekey locks, ensuring that previous keys no longer grant access, providing enhanced security and control over access to business premises.
Security Consultation and Upgrades
Commercial locksmiths serve as security consultants, offering expert advice on security enhancements for businesses. They stay updated on the latest security technologies and trends, enabling them to recommend appropriate security upgrades based on the unique requirements of the business. This can include installing CCTV systems, alarm systems, and implementing other advanced security measures to bolster overall protection.
Commercial Locksmith Services| Highest Quality Service
Services:
Commercial Locksmith Services
Residential Locksmith Services
Automotive Locksmith Services
Emergency Locksmith Services
Experienced Quality Locksmith
Emergency Services
24/7 Services
Years of Experience
Highest Quality Tools and Technology
Precision Work Done Quickly and Correctly
Call: 213-645-7100
Visit our website: https://hssecurelockandkeys.com and contact us today.