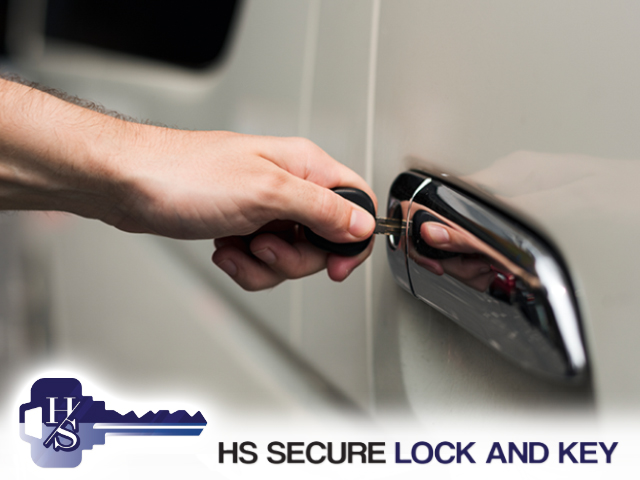 Automotive Locksmith Services | HS Secure Lock and Keys, a local company, providing expert automotive locksmith services and much more. Contact us today for a free estimate.
Automotive Locksmith Services | Highly Trained Experts
Automotive locksmith services offer a wide range of solutions for people who get locked out of their cars. These professionals can help you quickly and effectively if you've lost your car keys, locked them in the car, or encountered a faulty lock.
Emergency Lockout Assistance
One of their main services is helping you when you're locked out of your car. They can skillfully unlock your vehicle without causing damage. They use specialized tools like lock picks, slim jims, and key extractors to handle different types of locks, making sure you can get back in without any hassle.
Utilizing Advanced Techniques
Moreover, automotive locksmiths use advanced techniques to handle lockout situations efficiently. Their tools and training enable them to manipulate locks and gain access to your car swiftly and effectively.
Key Replacement Services
Besides lockouts, they also offer key replacement services. If you've lost your car keys or they've been stolen, these pros can create new ones for your vehicle. They can cut and program keys for various car makes and models, so you can get back on the road quickly.
Broken or Malfunctioning Car Locks
Furthermore, automotive locksmiths can also help with broken or malfunctioning car locks. Whether it's a jammed lock or a broken key in the ignition, automotive locksmiths can diagnose the problem and make the necessary repairs to ensure your car's locks work correctly.
Automotive Locksmith Services| Emergency Service Available
Services:
Automotive Locksmith Services
Emergency Locksmith Services
Commercial Locksmith Services
Residential Locksmith Services
Experienced Quality Locksmith
Emergency Services
24/7 Services
Years of Experience
Highest Quality Tools and Technology
Precision Work Done Quickly and Correctly