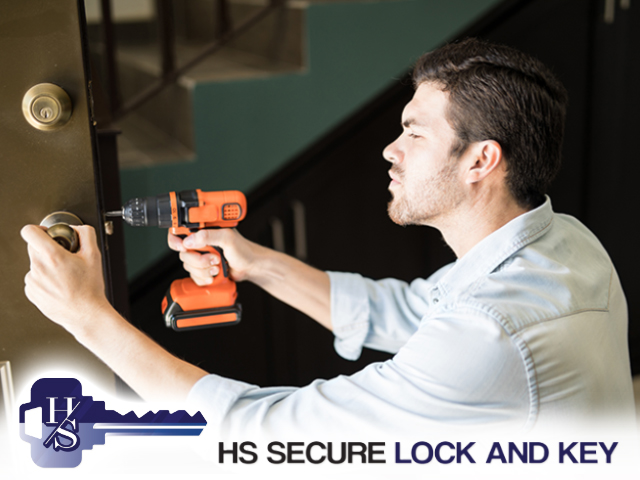 Residential Locksmith Services | HS Secure Lock and Keys, a local company, specializes in automotive, commercial and residential locksmith services and more. Contact us today for a free estimate.
Residential Locksmith Services | Quality Work
Residential locksmith services are the answer, to the frustration and inconvenience of misplacing keys. With their assistance, replacement and duplication options, as well as their expertise in lockout scenarios professional locksmiths provide the peace of mind you seek when faced with key related emergencies. By relying on their skills and knowledge you can swiftly regain entry to your home knowing that your security is restored and unauthorized access is prevented.
Prompt Assistance
When it comes to dealing with lost or misplaced keys residential locksmith services are your go to solution. If you find yourself locked out of your home or unable to locate your keys professional residential locksmiths are ready to assist while ensuring peace of mind.
Equipped with Tools and Expertise
In the event of lost keys reaching out to a locksmith service should be your first step. These experts understand the urgency of the situation. Prioritize response times. They arrive fully equipped with all the tools and expertise needed to help you gain access to your home.
Restoring Access and Enhancing Security
Residential locksmiths provide replacement and duplication services guaranteeing that you have a set of keys, for accessing your property. They have the capability to change the configuration of your existing locks making any lost or stolen keys useless. They will provide you with a set of keys that seamlessly work with your locks. This not allows you to regain access, to your home but also enhances your security by preventing individuals from using your misplaced keys.
Proficient Expertise and Efficiency
During emergency situations where you are locked out residential locksmiths utilize their expertise and specialized tools to enter your home without causing any damage to the locks or doors. With their understanding of lock mechanisms and experience in dealing with types of locks they efficiently unlock doors enabling you to regain access to your home.
Reliable Security
Professional locksmiths prioritize customer confidentiality and security. They follow protocols to ensure that authorized individuals can request key replacements or gain access, to a property. Reputable locksmith services adhere to guidelines in order to protect your privacy and verify that you are the owner of the property.
Residential Locksmith Services| 24/7 Service Available
Services:
Residential Locksmith Services
Automotive Locksmith Services
Emergency Locksmith Services
Commercial Locksmith Services
Experienced Quality Locksmith
Emergency Services
24/7 Services
Years of Experience
Highest Quality Tools and Technology
Precision Work Done Quickly and Correctly
Call: 213-645-7100