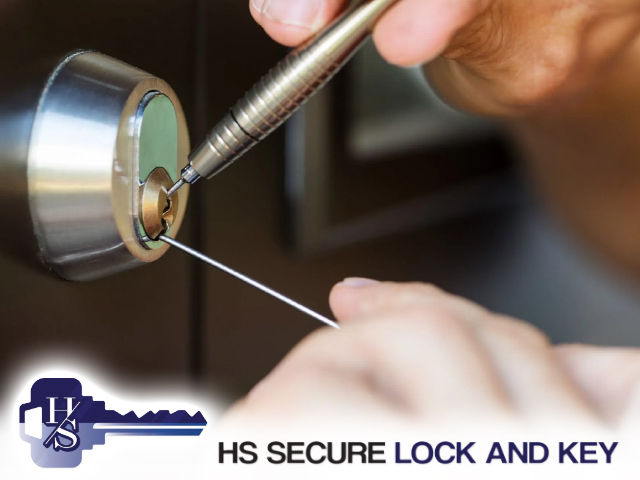 Home Lockout Assistance | HS Secure Lock and Keys, a local company, providing home lockout assistance and much more. Contact us today for a free estimate.
Home Lockout Assistance | Expert Workmanship
Home lockouts can be incredibly frustrating and stressful situations. Whether you've lost your keys, locked them inside your house, or experienced a malfunction with your lock, being locked out of your own home can leave you feeling vulnerable and helpless. In such situations, locksmiths play a crucial role in providing home lockout assistance.
Highly Trained Professionals
Locksmiths are highly trained professionals who specialize in various aspects of locks and security systems. When it comes to home lockouts, locksmiths are equipped with the knowledge and tools to help you regain access to your property quickly and efficiently. They are available 24/7, which means that you can rely on their assistance at any time of the day or night.
Lock Picking
One of the primary methods locksmiths use to assist in home lockouts is lock picking. With their expertise, they can skillfully manipulate the lock mechanism to unlock your door without causing any damage. This method is particularly useful when you've accidentally left your keys inside your home or lost them altogether.
Lock Bumping or Drilling
In cases where lock picking is not possible, locksmiths may resort to other techniques such as lock bumping or lock drilling. Lock bumping involves using a special key and a bumping tool to force the pins in the lock to align and unlock the door. Lock drilling, on the other hand, involves drilling a small hole into the lock cylinder to manipulate the internal mechanisms and gain access to the property. While these methods may result in some damage to the lock, they are necessary when other options have been exhausted.
Additional Services Available
Aside from providing immediate assistance during a home lockout, locksmiths can also offer additional services to enhance your home security. They can rekey your locks, which involves changing the internal pins and tumblers of the lock so that the old keys no longer work. This is particularly useful if you've lost your keys or if you're concerned about unauthorized access to your property.
Advanced Options
Locksmiths can also help you upgrade your existing locks to more secure options such as deadbolts or smart locks. These advanced locks provide enhanced security features, including keyless entry, remote access control, and real-time monitoring. By installing such locks, you can have peace of mind knowing that your home is well-protected against potential break-ins.
Home Lockout Assistance | Emergency Service Available
Services:
Home Lockout Assistance
Lock Installation
Repair
Rekeying
Door Repair
Replacement of Doors
Change of Locks
Master Key Services
Security Solutions
Car Key Replacement
Repair of Car Keys
Ignition Repair
Programming
Duplication
Vehicle Door Unlocking
Commercial Locksmith Services
Residential Locksmith Services
Automotive Locksmith Services
Emergency Locksmith Services
Experienced Quality Locksmith
Emergency Services
24/7 Services
Years of Experience
Highest Quality Tools and Technology
Precision Work Done Quickly and Correctly