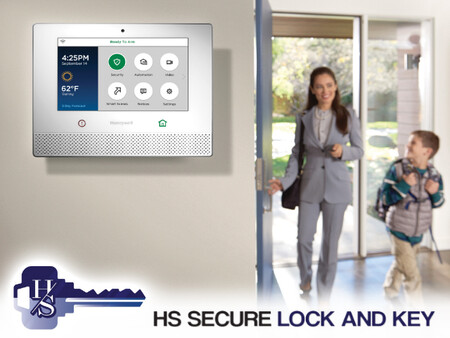 A Security system is a great addition to every home. HS Secure Lock and Keys is a local company that provides expert locksmith and security systems services. The home security system plays an integral role in keeping homes safe on a daily basis. Recent years have seen an increasing number of homeowners prioritize their security, and it is not hard to understand why. It was once commonplace to use dogs as security alarms because alarms were luxury items. In today's world, everyone can afford home security systems that ensure that their families are safe.
Security System | Repair & Installation
A homeowner can choose from several different types of alarm systems. Each of these systems has its own specifications, but they are all designed to keep your home secure.
In this post, we will explore monitored security systems and their benefits for homeowners who want to maximize security in their homes. You can integrate a security system with an alarm system to continuously monitor the state of your home security. Video feeds will notify you when an alarm goes off. An additional pair of eyes looking out for your and your family's safety is the major benefit of a monitored security system.
Fortunately for them, the purpose of this post is to explain just how monitored home security systems work so that your home is constantly protected from criminals. There is no doubt that safety is a time-sensitive issue, and it always will be. It is for this reason that response times play such an important role in just how effective safety protocols can be, not just at home. You'll see that time plays a huge role in the way things unfold in institutions like law enforcement and health care. Five seconds of delay could make the difference between life and death.
Monitored Security System
Monitoring systems keep you safe by covering almost every corner of your house. Self-monitored (DIY) systems and third-party monitored systems are the two basic types of monitored systems. Security systems assure homeowners that someone is watching over them and keeping their property secure at all times. Self-monitored systems, on the other hand, reduce the need for middlemen by streamlining the alert and notification process. Homeowners can be protected even when they aren't home to respond to alerts from their control panel. When homeowners are away for extended periods of time, or on vacation, this feature comes in handy. When an alarm is set off, you will receive a notification. If and when you don't respond to their approach, they notify the authorities.
Every security system has its own settings, which homeowners can tweak to suit their needs. It is possible to set some of these alarms to automatically notify authorities. While this can be annoying due to false alarms, it is useful if you actually find yourself in trouble. Consider the scenario of an armed robbery occurring at a home while the owner is still inside. When this happens, it is highly likely that the homeowner cannot contact the authorities in time. A burglar might not even be aware that their house has been broken into. In contrast, with a monitored alarm system that offers round-the-clock assistance, homeowners are always protected.
HS Secure Lock & Key | Fast Service
Over the years, home security evolved, and monitoring methods changed dramatically. Guard dogs made way for monitoring services that are available 24 hours a day, 7 days a week. Homeowners are striving to make their homes safer at all times, regardless of the day or time and whether they are present or not. Until now, the home security industry did a terrific job keeping families secure, and monitored security systems are a huge part of that.
Homeowners should not assume that monitored security systems will protect them from burglars. In order to complement your alarm system, you should implement other measures and deterrents. The measures can range from the installation of DIY security cameras to having a locksmith change all the locks on your doors. Make sure that your security does not rely too heavily on a single measure.
How Monitored Security Systems Work To Keep You Safe | Locksmith Services | North Hollywood CA | Los Angeles CA | HS Secure Lock and Keys
For more information, or to schedule an appointment, call us at 213-645-7100, or send us an email.
Services:
————————–
Residential Locksmith Services
Commercial Locksmith Services
Automotive Locksmith Services
Emergency Locksmith Services
Experienced Quality Locksmith
Emergency Services
24/7 Services
Years of Experience
Highest Quality Tools and Technology
Precision Work Done Quickly an
#howmonitoredsecuritysystemsworktokeepyousafe #howmonitorsecuritysystemswork #monitorsecuritysystems #monitoredsecuritysystemsandhowtheywork #monitoredsecuritysystemskeepyousafe